Some features of this website DO NOT support IE. Please use Chrome or Edge, or other browsers.
Powerful Features
Innovative EKG electrode strip makes heart care simpler
Patented pre-positioned electrodes
Simplifies lead placement procedure.

70% faster setup time.
Most of the time, traditional 12-lead wires intertwined with each other. So, ECG Performers have to spend extra time to sort the lead wires. Then, they have to spend additional time matching the right lead-wire with the right electrode. By applying QT Medical ECG electrode strips, PCA S101-107, with PCA 500, the setup time can be 70% faster than ever before. With the saved time, you can save more lives!
AHA & IEC compliant.
QT Medical ECG electrode strips, adhere to AHA & IEC guidelines.
Proven usable by patients with no training.
For a traditional 12-lead ECG, technicians have to obtain professional medical training in order to complete the test. But QT medical makes the 12-lead ECG accessible to everyone. Just by reading our quick guide, anyone can perform 12-lead ECG with our prepositioned electrode strips and PCA 500.
Electrode Strip available in 3 Pediatric sizes and 4 Adult sizes.
1, 2, 3, S, M, L, XL

Excellent adhesion and tracing.

Latex-Free and allergy-tested.
How to place the Electrode Strip
Our electrode strip can be placed by anyone! Please take a second to watch the quick video that demonstrates just how easy it is to set up a 12-lead ECG with our Electrode Strip.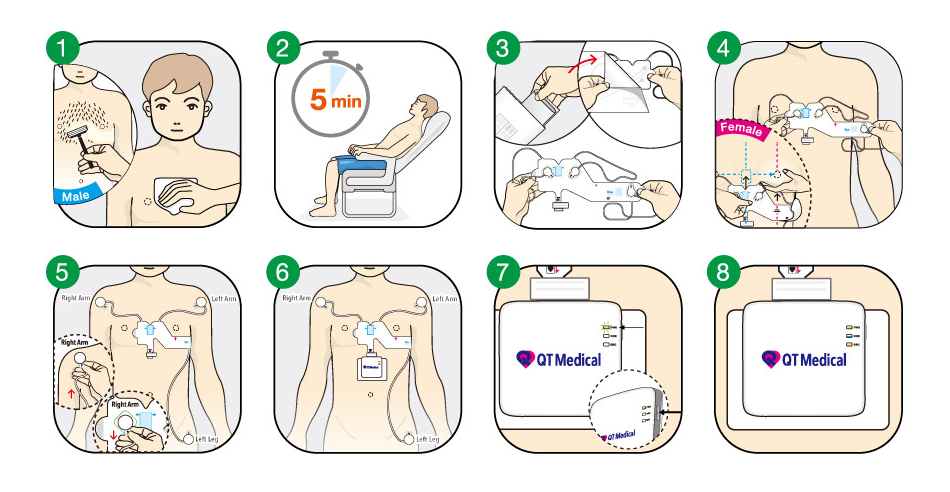 This website uses cookies to collect information about your browsing session so we can provide the best experience possible.